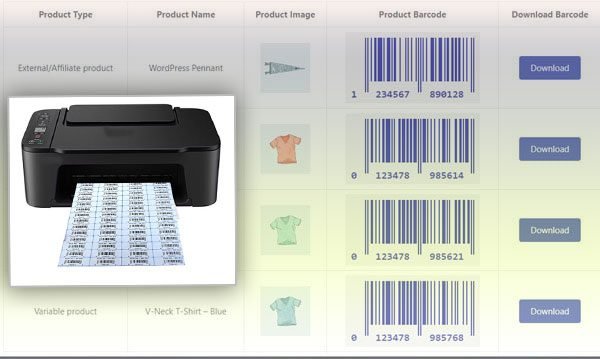 Technology is advancing rapidly in the modern world and is acting as one of the major drivers of commercial demand innovation. You may think, therefore, that barcodes are running out. In fact, the opposite is true – the need for barcodes has never been greater.
Search for improved profits
We are moving into a world where conventional brick-and-mortar retailers are rapidly losing ground to e-commerce(WooCommerce) sites like Amazon and eBay. Each year, statistics have been released that show an increase in online shopping behavior across the entire population, and behind this movement is a force of distributors, warehouse companies, real-time inventory specialists, and logistics masters.
In such a demanding and competitive arena, the smallest margin is expanded by a mere amount of sales. Barcodes still reign supreme in this marketplace for a number of reasons, but primarily because they are much more affordable than conventional labeling.
Industrial printers allow the printing of single strip codes directly into product packaging using a minimal amount of material to help keep costs down. This allows larger e-commerce operations to run their own proprietary systems, providing an extra level of management and control when moving and storing items.
Labels or direct printing?
Labels that use human language will only work in a limited number of places, and while most stock control systems are now computer-driven, human recognition is not only irrelevant but also the most likely process point for error.
Many businesses now use bespoke barcodes for their own stock control systems because they are versatile enough to be used for all types of shipments and even for labeling equipment. For example, each piece of stock control hardware can be logged in and out of the e-commerce business storage area, which reduces losses and saves time searching for equipment.
Although barcoding may require an initial investment for an e-commerce business, the most significant reduction in costs is through saving on errors in shipping, packing, and manual input.
Barcodes applied directly to products instead of labels will save the manufacturer's label costs and ensure that the code stays in place throughout the product's lifetime – important for applications such as extruded PVC pipes, and electrical fittings such as plug sockets and even wood molds. Several barcodes may need to be applied to the product; For example, for internal traceability/stock control, and for a point sale, so using a printing method such as a continuous ink jet or laser will save labeling costs.
Barcodes applied to secondary packaging must be of high resolution so that they can be read electronically, so the larger generation printers of recent generations are more suitable because they can reproduce images with 2d code at 180dpi resolution.
Information economy
In recent years we have seen the emergence of data matrix code that can include variable data. An example of this would be the popular QR code. For some time, almost every marketing parallel or off-the-shelf product has had one of these square ciphers. Providing a considerable amount of information compared to standard stripe barcodes, they have wide applications in the electronics industry.
Electronic components often have a limited amount of space for labeling. Data matrix codes are capable of holding more than 2,000 characters, these 2-dimensional codes offer businesses many advantages over conventional labeling. Enabling e-commerce activities to concentrate complex information in a compact area and identify parts of the original manufacturer, is an ideal tool for labeling electronics components such as processor upgrades and RAM.
Enable customer behavior
Barcodes not only help e-commerce (WooCommercve) sellers but also remove friction from the buyer experience for buyers. Customers can now download apps that allow scanning of items and products for easy ordering. For example, anyone with a smartphone can scan the barcode on the back of a product and find the exact same item on an app site, saving the buyer time in identifying the right product and speeding up the purchasing process – obviously an advantage for suppliers.
English is not the universal language of e-commerce. Our market-driven world uses the barcode alphabet to effortlessly power the physical aspects of millions of Internet-enabled transactions every day. Without the efficiency of such a system, the rapid delivery time will decrease rapidly and the cost will skyrocket.
Print and label your inventory.
Once you've adequately categorized your products, created your barcodes, and set up your scanner, it's time to print and label your inventory.
There are hundreds, if not dozens, of software platforms that can help you do just that with a few clicks. Heck, there's even a free barcode generator that you can use and print directly from your browser.
Product Baercode Genertaro for WooCommerce:
Product Barcode Generator" Generate Dynamic barcodes for WooCommerce products. This plugin can Create a barcode based on Product SKU number, Product ID, and Product Title.
==> With this plugin, users can create barcodes for all kinds of WooCommerce products.
Simple Product
Grouped product
External/Affiliate product
Variable Parent product
Variable Child
==> Barcodes can be created from 14 formats
CODE128 (Auto)
CODE128A
CODE128B
CODE128C
CODE39
EAN-13
EAN-8
UPC(A)
ITF
MSI
MSI10
MSI11
MSI1010
pharmacode
==> Automatically Display Barcode in Single Product Page
Variable Product Supported (both backend & frontend)
For variable Products, As the product changes, the barcode changes automatically
Shortcode for Single Product Page
==> As the product attribute changes, the barcode changes automatically. View Demo
1.) Variable Product Supported (both backend & frontend)
2.) Shortcode for Single Product Page
Now, Check the WooCoomerce-based Barcode Generator Plugin for WordPress Repository.

Sharabindu Editorial Team
The editorial team at Sharabindu consists of a group of highly trained WordPress professionals who strive to deliver nothing but excellence.
Related Posts
Do you own a WooCommerce store? Do you want to integrate a barcode system for inventory management? Adding barcodes to
Read More »