Description
What Woo Header Mini Cart can do for you?
This Plugin will add cart icons to your eCommerce site's menu options. You can also add cart icons to any of the site's preferred locations via shortcodes. There is a mini cart in the clickable sidebar
Woo Minicart Is Packed With Awesome Features
1.

 Cart Icon to menu items
Add cart icons to menu items on the WordPress site, place the menu cart in different menus as often as needed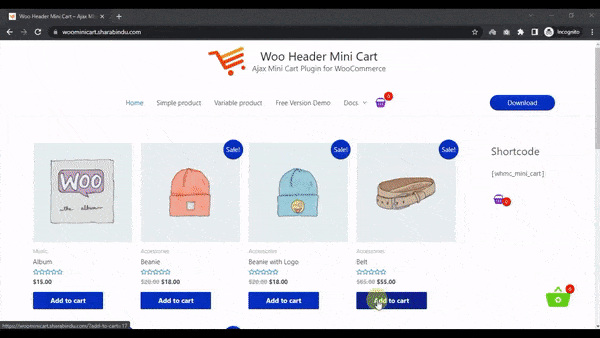 animated notification after a product is carted. creating eye-catching animated notifications after adding them to the cart button. easily customize notifications, colors, locations, and styling using the built-in features
​
the sidebar mini cart opens automatically after a product is carted. amazing sidebar options for cart items number, icons, color, delete, custom notes,s and many more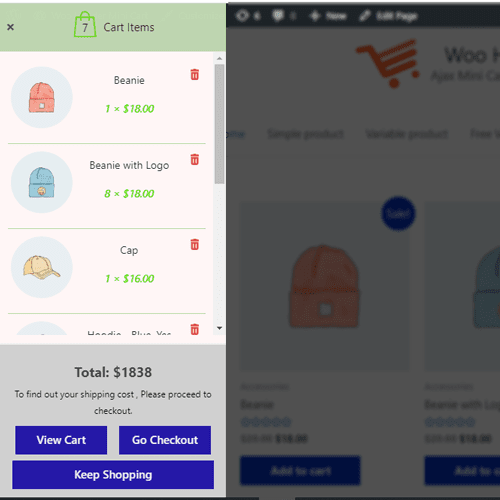 4.

 Ajax on the single product page
ajax cart features both simple and variable products on a single product page.
this means that when customers click the "add to cart" button, the item will be carted without page refresh.
There are 3 ways to display cart icons on WooComemrce based website
Add to the menu item
Automicayy display by footer position
Shortcode
6.

Plugin Update Notification
We update the Plugin regularly, Where new features are added day by day and get instant plugin update notifications
What we are offering for this package
1 Site | 1 Year
✓

Add Cart icon To Menu Item​

✓

Disclosure of cart item number

✓

Disclosure of cart Product number

✓ Shortcode Supported

✓

Automatically open sidebar

 sidebar open automatically after a product is carted

✓

Animated Cart Notification

✓ Amazing animation effects
✓ Footer Cart & Menu Cart button
✓ Super cool customization
✓ Single Site License for 1 Year
✓ 1 Year Customer Support

✓

Download Limit 10 times

✓ Support Response 24 hr

✓

Get Updates for 1 year