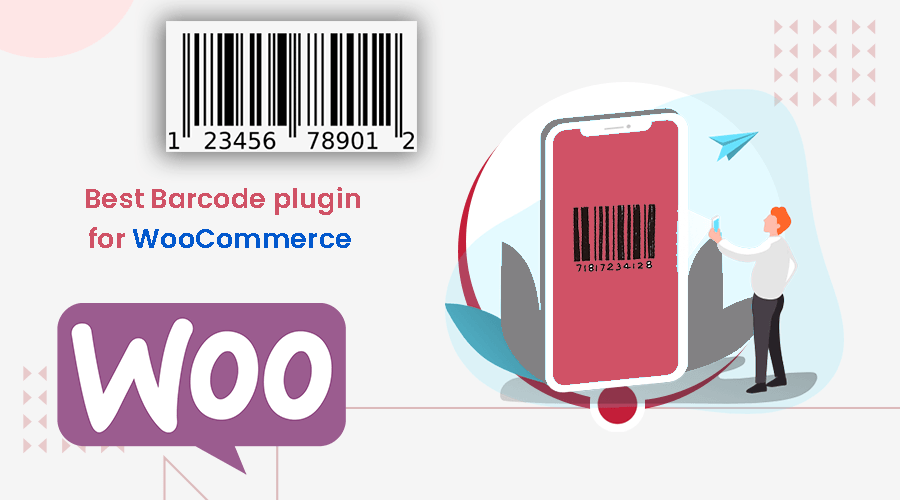 Do you own a WooCommerce store? Do you want to integrate a barcode system for inventory management?
Adding barcodes to orders and products may seem like a daunting task at first.
However, this will not prevent you from deciding to integrate the barcodes as the benefits will definitely help you save money, time, and resources in the long run.
In this article, we're going to talk about why you need barcode plugins, how they can help your business grow, and the best practices for using barcodes. Last but not least, we will recommend one of the best WooCommerce barcode plugins for your WooCommerce store.
All right. Let's dive straight inside.
Why do you need WooCommerce Barcode Plugin?
Each barcode brings information stored in it. With WooCommerce barcode plugins, you and your team can easily scan and decode that information in seconds.
Regardless of whether a barcode is placed on your equipment or items, it helps you to easily store and trace your information across the supply chain.
By using a WooCommerce barcode system, you can have great benefits for yourself, your company, and your employees.
However, let us tell you about the four most notable benefits that you can reap by introducing a barcode system for your products:
Reduce the chances of errors in your business.
Get more accurate data to track and monitor your inventory activity.
Perform audits quickly but accurately.
Make data-driven business decisions.
why using barcodes is so important,?
The best answer to this question is how and why you are going to use a WooCommerce barcode system. What do you want:
Track raw materials from factories, warehouses, and your stores?
Track the expiration date of your sales product or item?
Use barcode in a physical POS location?
Once you've figured out why you should go for a WooCommerce barcode generator, choosing a solution makes it easier for you. But, before jumping to the straightforward solution, you need to know a few simple but important tips so that you can get the best out of your barcode system.
Keep the barcode carefully
Barcodes reduce the time it takes to perform almost any activity related to your inventory management. However, if you and your employees need a few minutes to rotate the items to identify the barcodes, then there is no point in using the barcodes at all. Because, instead of saving time with inventory, it will do just the opposite. In order not to waste your valuable time, it would be wise to follow a consistent procedure for labeling items and equipment.
Best WooCommerce Barcode Plugin
To use barcodes for your products and orders, you must first create and print barcodes.
There are dozens of plugins for creating and printing barcodes. Let us recommend a great barcode plugin that works smoothly for WooCommerce. Go through the description and choose one or two for your WordPress website.
"Product Barcode Generator" Generate Dynamic barcodes for WooCommerce products.
This plugin can Create a barcode based on Product SKU number, Product ID, Product Title
Automatically generate and display, easy customization, All Product types Supported, Live Preview, and many more features included in this plugin, it's really cool. View demo 
Key Features of Product barcode generator  Plugin
Free version Formate
* CODE128 (Auto)
* EAN-13
* EAN-8
* UPC(A
Free Version Features
Generating Dynamic barcode based on product SKU or product ID
Creating barcodes from 4 formats CODE128(Auto), EAN13, EAN8, UPC(A)
Typography customization at barcode labels, location, and alignment change facility
Advantages of typography customization, positioning, alignment, and color change in product printing and titles
The advantage of changing the width of the barcode
Show or Hide Product Title and Product Price
Download the Barcode from the Product edit page
Print Barcode from edit page with title and price
Allow Product Types: Simple, Grouped, External / Affiliate, Variable Parent
Live preview feature in barcode customization
Premium version Formate
* CODE128 (Auto)
* CODE128A
* CODE128B
* CODE128C
* CODE39
* EAN-13
* EAN-8
* UPC(A)
* ITF
* MSI
* MSI10
* MSI11
* MSI1010 &
* pharmacode
Premium Version Features
its Premium version is Awsome.
Automatically Display barcode on the Product page/ Shop page
Automatically  Display barcode Category page, Tags PAge
Shortcode for shop page
Automatically Display barcode on Single Product Page
The advantage of changing the color of the barcode line
There is an advantage to using color in the background
The facility of changing the height of the barcode
Bulk Print from Setting Page
Barcode Download from Setting Page
Variable Product Supported (both backend & frontend)
For variable Products, As the product changes, the barcode changes automatically
Shortcode for Single Product Page
Add Capability (admin can add a role for this plugin access: editor, author,contributor, subscriber,customer, shop manager)
Alow Product Types: Simple, Grouped, External / Affiliate, Variable Parent, Variable Child
Bulk Print Shortcode [pbar-print] View Demo
Bulk Download Shortcode [pbar-download] View Demo
Can print and download barcodes based on Category type
We hope that this WooCommerce barcode guide was immensely helpful for you.

Sharabindu Editorial Team
The editorial team at Sharabindu consists of a group of highly trained WordPress professionals who strive to deliver nothing but excellence.
Related Posts
Technology is advancing rapidly in the modern world and is acting as one of the major drivers of commercial demand
Read More »