The best Filter Masonry addon for Elementor Page Builder
Current Version: 2.3.1 ( 23 Sepetember, 2023) changelog
This addon lets you create showcases of portfolios, products, posts, custom post items. and set category-based filter buttons. Filter masonry can be created based on post type and gallery masonry can be created without post type.
A few reasons for you to choose
Filter masonry is a widget that lets you create filters based on categories. Suppose you create a filter item for products. Now select the category which will be used as the filter button and the products will be displayed according to the category
Gallery Masonry is a widget that allows you to create an image showcase. It doesn't depend on the post type, you can add images from the Elementor editor page
You can easily print barcodes for your store products. able to use features like Ajax filtering based on product category. Print barcodes of all your store's products or specific products with one click
Features of Filter Masonry
The filter feature works based on post type. With this plugin, you can create product filters, blog posts filters, portfolio filters, and your own custom post type filter
There will be two types of sorting, which allow the user to display the post-type-based showcase.  For the filter button select category type to sort. There will be no filter button for the 'posts' it will show as a gallery showcase.
Category filter is to make items showcase according to the category. in this case, the category you choose, all the posts or items under that category will be displayed automatically. The filter button will act as the category name
The infinite Scroll function is that as the visitor scrolls, the items will be automatically displayed one after the other. It will also optimize the page speed of the site and the visitor will see all the items through Ajax feature. You have to select how many items you want to see per page. Then the infinite scroll function has to be done as well. Now started scrolling with infinite
Features of Gallery Masonry
Items can be added to the gallery as often as needed. You can handle gallery items from the Elementor editor panel. It is not post type dependent. So create a gallery showcase for your site by adding items as required
Hovering each item will show a link icon, link button can be added here
Image can be set for each item and title can be added for the item. A popup title will show when zooming the image.
Two link buttons can be added to each item, maybe porifolio preview and buy now button. Or any link you need
Hovering each item will show an icon which will show popup content, here you can insert popup image ,popup video link, popup shortcode content, popup html elements
Amazing beautiful layout design, with cool animation effects, enriches the style
You can easily customize typography for the title text, section text, and button labels.
When we click on an icon of an item a popup will appear as an image. You can add elements for popup content, such as videos, shortcodes, raw HTML, and embedded code. See the admin page for how to add popups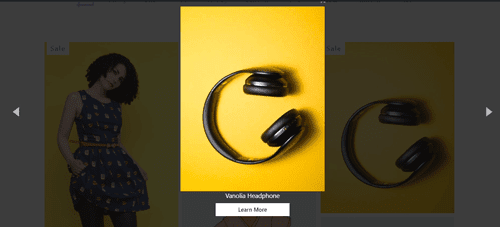 There are very nice popup gallery images for items. It has next and previous buttons. If you click on the best, you will get the image and link of the previous and next item. popup will display that item's title and item link below the image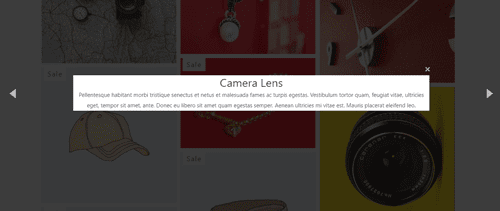 Any shortcode can be seen as elements of popup, put the shortcode in the designated place of an item. Then set the icon, now hover on a item . Click on the icon. The content of the shortcode will appear as a popup
Can set video for popup item. You can add youtube or vimeo video links or other custom video links. If you hover an item, you will get the video link. which will pop up the video if you click on it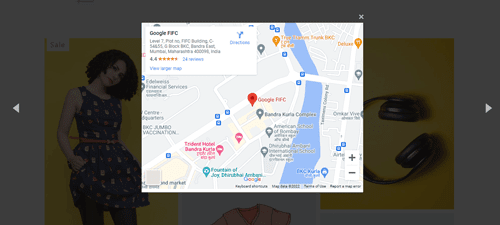 Any kind of Raw html, embeded code can be seen as elements of popup, put the code in the designated place of an item. Then set the icon, now hover on a item . Click on the icon. The content of the code will appear as a popup
One Click Installation

This plugin is very easy to use and easy to install. With just one click,

Support & Updates for One Year

All of our products are available with one year of premium support and updates. With Infinite Plan and Plus Plan, you will get support and updates on your website for life

24x7 Premium Technical Support

If you do not have experience with the technical aspects of your website, our support staff will lend you a hand. We are here 24 hours a day, 365 days a year, to help sort any issues you might face.

Secured & Optimized Code

We work extra hard to make sure our plugins are solid and unhackable. We optimize the code to make it very light and search engine friendly.
Here you can find some frequently asked questions about this plugin. If you can't find a reply to your doubts, ask a question. we will reply in a very short time
Do I need to have coding skills to use ELFI Masonry addon?
Not at all. you only need to install it and activate it. the barcode generator will automatically start on your site, without any need to tweak the code. Look at the documentation  for details about the plugin settings
What are the requirements for This Plugin?
A minimum of PHP 5.7 is required. Minimum WordPress Version 4.o or higher
Can I use ELFI Masonry addon on client sites?
Yes, buy "Infinite Plan" for this. You can set up the premium version of "ELFI Masonry addon" on your customer's website. Lifetime updates will be available
Do you offer a trial version of Plugin ?
We do not offer a trial version. But a free version is available in the WordPress repository of the premium version plugin.  you can try it
Do you offer support if I need help?
Yes, Click the live chat option. you can submit a ticket to contact a developer
Can I upgrade my license?
If you want to upgrade. you will have to buy a new plan with the full amount
Why should we use the updated version?
If you do not get the updated version of the plugin. you will miss the new features and security of the plugin. So always use the latest version themes, plugins, and WordPress version
In case of single plan, will the plugin after one year?
The plugin will work, you can use the updated version of the plugin for 1 year in case of a Single plan
What does 10 times download limit mean?
This means when you choose "single plan" you can download the plugin file 10 times from the date of purchase. When an update to the plugin is released, we'll email you. You can download the premium file from your account page and install it on the site
Why buy plus plan for single site?
Our lifetime package prices are lower than any other market. This is because we only try to keep our hard work part, so we offer a lifetime license at a very low price. The benefits you get with the Plus plan are:
You can download unlimited plugin files.
Get new features of the plugin for lifetime
Can always use the updated version plugin
A lifetime plan will keep your website safe for life
No functionality errors will occur in future WordPress versions
Lifetime Premium Customer support
What payment methods do you accept?
We use Stripe's payment gateway by debit or credit card. We only accept USD dollars
Choose your plan from the following prices
Why do we recommend taking a plus plan for a single site?
You can download unlimited plugin files.
Get new features of the plugin for a lifetime
Can always use the updated version plugin
A lifetime plan will keep your website safe for life
No functionality errors will occur in future WordPress versions
Lifetime Premium Customer support
See the inner side of the plugin in the dashboard demo
We have created complete documentation for the plugin
We provide 365 days after Sales support service
Install Elfi masonry Addon on your WordPress site today and start making beautiful Filter today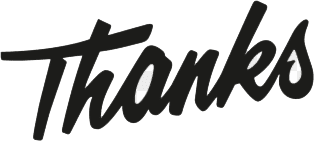 to our 63,000+ users that trust us
elementor filter
elementor filter posts by category
elementor filterable gallery
elementor filter posts
wordpress elementor filter
elementor filter widget
free elementor filter plugin
woocommerce elementor filter
elementor filter plugin
elementor filter by category
elementor filter products
acf elementor filter
elementor filter archive posts
elementor ajax filter
elementor archive filter
elementor add filter
elementor product archive filter
elementor post ajax filter
elementor post search and filter
blog posts and category filter for elementor
ajax product filter elementor
elementor ajax post filter
elementor filter bar
elementor filter blog posts
elementor backdrop filter
elementor filter products by category
elementor posts filter bar
elementor portfolio filter bar
elementor posts widget filter bar
elementor loop builder filter
blog filter elementor
elementor pro filter posts by category
elementor loop grid filter bar
elementor filter custom post type
elementor category filter
elementor checkbox filter
elementor content filter
elementor posts filter category
elementor blog category filter
elementor woocommerce category filter
elementor dropdown filter
filter everything elementor
filter everything pro elementor
elementor product filter free
elementor search form filter
filter for elementor
list of elementor widgets
woocommerce product filter widget for elementor
product filter for woocommerce elementor
product filter for elementor
filter addon for elementor
elementor filter grid
elementor filter loop grid
elementor post grid filter
elementor image gallery filter
elementor pro filter gallery
elementor pro loop grid filter
elementor loop grid filter
elementor post grid with filter
elementor filter gallery
how to add filters to google search
how to add custom filter in wordpress
how to add filter in wordpress
elementor image filter
filter in elementor
filter in elementor pro
elementor isotope filter
elementor pro filter
elementor filter loop
elementor filter list
elementor post list filter
elementor post filter plugin
elementor portfolio filter
elementor product filter
elementor post filter
elementor woocommerce product filter
elementor query filter
elementor general settings
elementor search filter
elementor spam filter
elementor sorting filter
elementor select filter
smart filter elementor
elementor section filter
elementor filter table
elementor taxonomy filter
elementor tag filter
filter tabs elementor
elementor table filter
elementor filter woocommerce
elementor product filter woocommerce
elementor product filter widget
elementor posts with filter bar
elementor gallery with filter
filter posts by category wordpress elementor
woocommerce filter plugin elementor
woocommerce ajax product filter elementor
elementor filters
elementor blog filter