Current Version: 2.2.4 (7 November, 2022) changelog
The most stylish design QR code generated automatically
 powerful styling options to make QR stand out quite easily. Users can easily customize the QR design, change the background color, add images, add background images and much more in dot color QR style.
What Master QR can do for you?
This Plugin generates QR codes for the Current Page URL, Custom Link, Custom Text, Google Map Location, Wifi Access, WhatsApp Access,vCard, email, number, and many more
Master QR Is Packed With Awesome Features
 A perfect URL QR to showcase your powerful site link in various styles using Logo, Dot Color, and Background image or color. you will find powerful styling options to make them stand out quite easily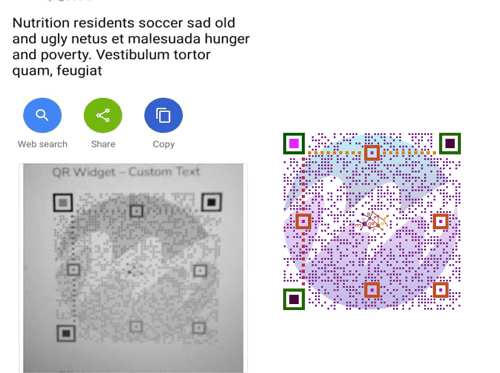 2

Custom Text, Number, Link
Create beautiful information on the text, phone numbers, and custom links using this powerful QR and make them dynamic using built-in features
Incredibly powerful QR to showcase your site or location. Google, a nice combination of longitude, latitude and image. You can create a wrap i-candy design using the built-in positioning and offset features.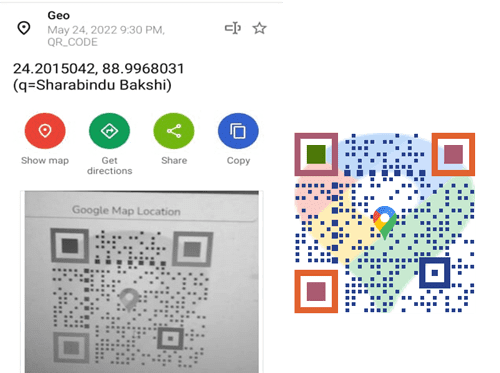 Connect WiFi and share access together using WiFi QR. Separate them using the built-in offset and positioning features.
WhatsApp Chat QR is a necessary building QR for accessing user chats, messages and other progressive information. It comes with incredible customizing options to suit your needs.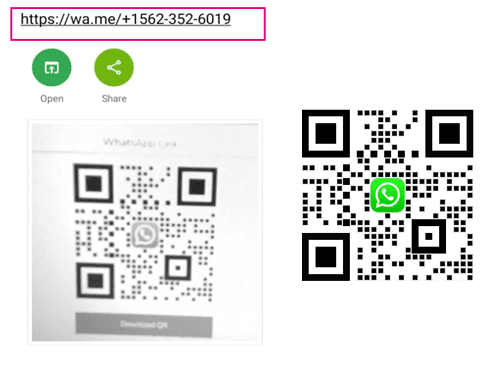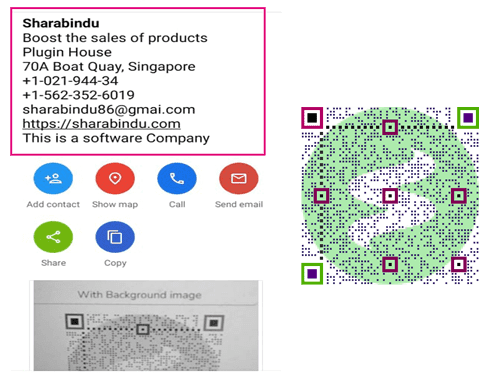 vCard QR Code stores basic information such as your full name, contact info, job title, work or home address, and website URL
Generating vCard QR Code in two ways
1) From Shortcode: To create a bulk vCard QR code user need to use a shortcode with an attribute. QR displays only attribute values, not attribute names. So the user can use string or numeric or link in any attribute.
2)Elementor: If the site using Elementor, the user can create bulk vCard QR with plugin built-in QRC addon
Your customer can call you directly or find the number by scanning the phone QR widget. Separate them using the built-in offset and positioning features
Visitors can easily get their email address through email QR. Connect with your visitors and customers and share information together using the email QR generator.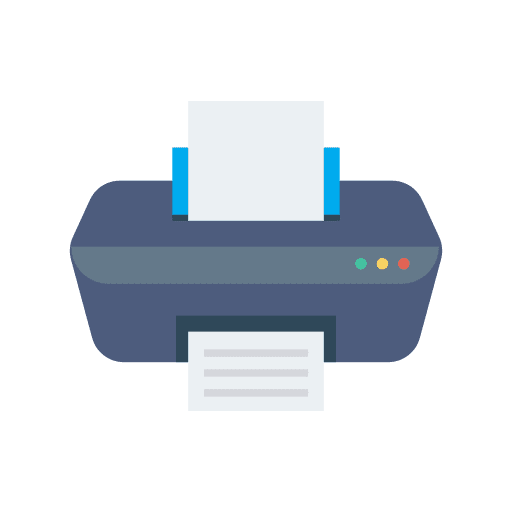 Users can easily print the QR code from the plugin settings page and from the front end with the built-in shortcode. Users can use filters by category. This will create a printout as a PDF
Users can easily download QR code from the plugin settings page and download the frontend with the built-in shortcode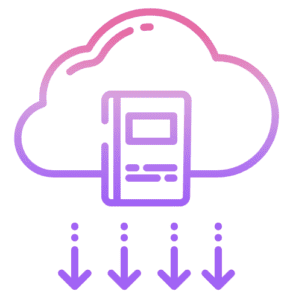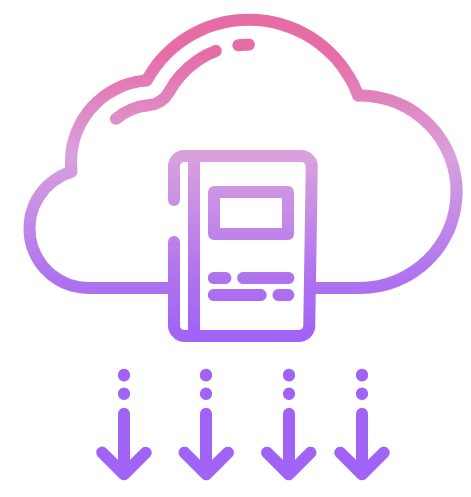 12

Set different logo for different Post Type
You Can set different logos based on post type. If the image field is blank for a post type, then the logo image will be active from the 'Current Page QR' logo image settings
13

Print button for Single QR
This is a new feature that we've included since version 2.2.3. Users can print a single QR code with this button, just a click will bring up a popup window and print the QR as a PDF. It's amazing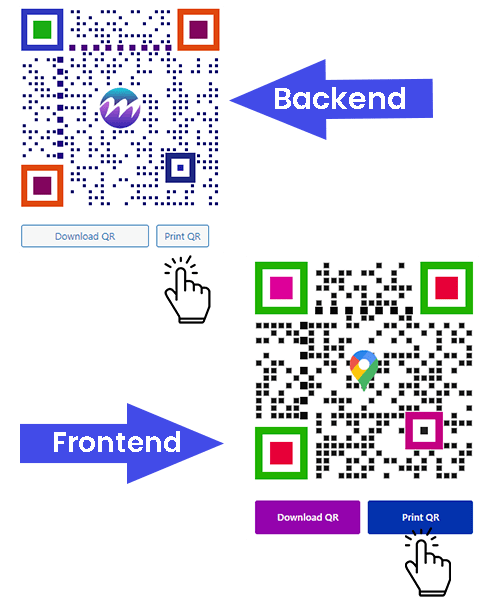 14

Plugin Update Notification
We update the Plugin regularly, Where new features are added day by day, and get instant plugin update notifications
Methods of Display QR Code
QR codes are automatically displayed after the content, and according to the post type with the meta box support
Post,
Page,
Product,
Custom post .
2

Display QR By Shortcode
Each shortcode has an attribute, so you can create multiple QR codes from elements with the attributes. we have below builtin Shortcode for display QR code 
[masterqr-post]
[mqr-type-post type="post" limit="5″]
[masterqr_link]
[masterqr_whatsapp]
[masterqr_wifi]
[masterqr_maps]
[masterqr_vcard]
3

Elementor Addon​ Support
 For Elementor users can use QR Code Composer easily with the "QRC Composer" addon. and generate QR codes for Current Page URL, Custom Link, Custom Text, Google Map Location, Wifi Access, WhatsApp Access,vCard, email, and number.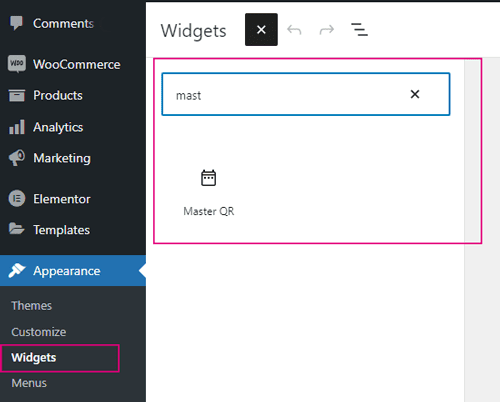 Users can create QR codes with the WordPress widget. Go to the Widgets page and search for "QR Code Composer". You can create a QR for this
Current Page URL
Text, Custom Link, Number
Email address
WhatsApp Chat
Phone number
One Click Installation

This plugin is very easy to use and easy to install. With just one click,

Support & Updates for One Year

All of our products are available with one year of premium support and updates. With Infinite Plan and Plus Plan, you will get support and updates on your website for life

24x7 Premium Technical Support

If you do not have experience with the technical aspects of your website, our support staff will lend you a hand. We are here 24 hours a day, 365 days a year, to help sort any issues you might face.

Secured & Optimized Code

We work extra hard to make sure our plugins are solid and unhackable. We optimize the code to make it very light and search engine friendly.

7 Days Money Back Policy

If you have trouble working the plugin, we will be happy to refund you in full within 7 days of purchase.
QR Generate Automatically
QR generate for Custom link, text, number
QR generate for Whatsapp Chat Access
QR Code for Google Maps Location
QR Wifi Access
vCard QR Code Support
QR Generate for Post, Page, Product, and Custom Post Type
Elementor Addon support
Meta box Support
Display Master QR Automatically at the bottom of the content
Display Master QR by Shortcode
Display Master QR by Shortcode with Attribute
Display Master QR by  Widget API
Styling QR with dot color
Styling QR with Background color
Styling QR with position color
customization dot scale
QR Code with center Logo
QR code with Background Image
QR Image Bulk Print facility
Download the QR Image from the front end
Alignment setting
Easy to QR code size customize
Live Preview
| Features | Free Version | Premium Version |
| --- | --- | --- |
| Eelementor addon | No | Yes |
| Logo Upload Option | No | Yes |
| Add different Logo for different Post type | No | Yes |
| Background image Upload Option | No | Yes |
| vCard QR Support | No | Yes |
| Google Location Access | No | Yes |
| WhatsApp Chat Access | No | Yes |
| Custom Link/Test/Number | No | Yes |
| Wi-Fi Connected Access | No | Yes |
| Shortcode Api | No | Yes |
| QR Widget option | No | Yes |
| QR Code Image Bulk Print | No | Yes |
| QR Code Image Bulk Downlaod | No | Yes |
| dot scale Color Change option | No | Yes |
| Live Preview | No | Yes |
| QR Code Background Color Change Option | No | Yes |
| Qr Code Image Download from FrontEnd and Backend | No | Yes |
| Qr code size customize | Yes | Yes |
| Dot Scale Customization | Yes | Yes |
| Alignment setting | Yes | Yes |
| Excluded from Post types | Yes | Yes |
| Metabox Support | Yes | Yes |
Frequently Asked Questions (FAQ)
Why do we recommend taking a plus plan for a single site?
Only invest once and get lifelong benefits
There will always be updates on plugin security
It will always be compatible with the WordPress version
Get lifetime plugin updates & customer support,
No hassle of buying year after year
All modern and up-to-date browsers are supported, including, but not limited to
Download QR Code composer for completely free and start making dynamic QR today.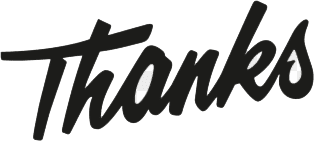 to our 63,000+ users that trust us