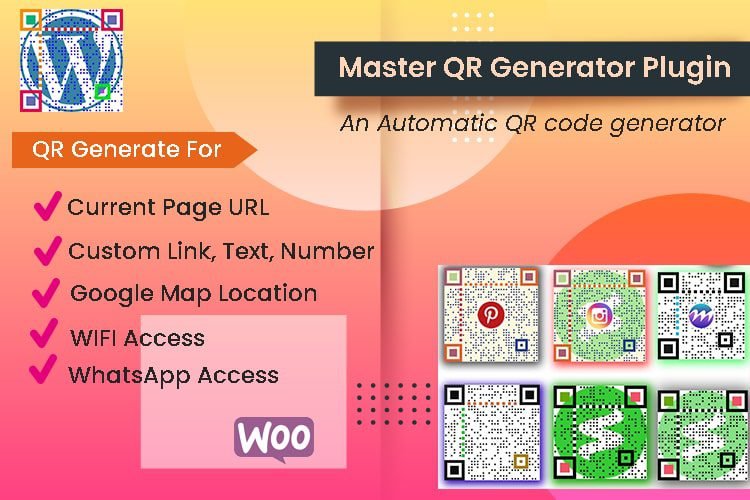 An Automatic QR Generator Plugin for WordPress
Today I will discuss a very nice plugin. Its name is Master QR Generator. The main feature of this plugin is that it will automatically generate QR after activation. This plugin will automatically generate a "QR" when you publish a post, page, product, or custom post. Not so pretty! You can remove "QR" from a particular page/post if you want, and hide all "QR" from a particular post type – (post, page, custom post, product). For one thing, where you display the "QR" is entirely up to you. Maybe in a special post type or a special page
Both the free version and the pro version of the plugin are very nice
FREE VERSION
QR For Post Type – post, page, product, custom post
Display QR code bottom of the content
Beautifull DotScale QR
Changing QR Size
Customize DotScale range
QR Alignment setting
Excluded from Post types
Metabox Support
Post: – You can easily display post QR after the content of a single post. Customize styles using dot scale range, size, and meta box in the post edit panel
Product QR –
Create A beautiful Product QR using this Powerful QR. You can see it in the tab section of the product page as the name of "Product QR".
Page: – Display the master QR after the content of a page. Customize styles using dot scale range, size, and meta boxes in the post-editing pane.
PREMIUM VERSION
QR GENERATOR OPTION
WORDPRESS WIDGET
Current Page URL
Text,Custom Link, Number
Email address
Whatsapp Chat
Phone number
SHORTCODE
Current Url:[masterqr-post]
Text, Custom Link, Number: [masterqr_link]
Whatsapp: [masterqr_whatsapp]
Wifi: [masterqr_wifi]
Google Map: [masterqr_maps]
ELEMENTOR WIDGET
Current Page URL
Custom Link
Google Map Location
WIFI Access
Whatsapp Chat
Phone number
Email address
Elementor Addon Support –For Elementor users can use Master QR easily with the "Master QR" addon. Available option for Current Page URL, Custom Link, Emails address, Phone NUmber, WIFI Access, WhatsApp Chat. Use of Elementor WidgetPlease see the documentation.
QR BULK PRINT
QR Bulk Print: You Can easily Print QR from the plugin settings page. In this setting area, you can choose post types like 'product', 'post', 'page', 'custom post' etc. You can use the print per page, dynamic pagination feature, and beautiful pop-up printing option. You will get the printout as a PDF.
QR DOWNLOAD AS IMAGE
Download QR Code: – This is a powerful option for your visitors, they can easily download QR images from your site. This option is available for post type QR and QR element widgets.
LIVE PREVIEW
Live Preview: – You will see a beautiful live preview QR on the settings page, it will help you a lot with QR styling.
QR DISPLAY OPTIONS
Display QR By Shortcode
Display QR By Widget
Display QR By Elementor Addon
Bottom of each content (Automatically)
#WordPress #qr #qrcode #plugin #QRcode #wordpress plugins